Gonda Shuzo Product list
Liquer Blue Thermal Honey Plum Wine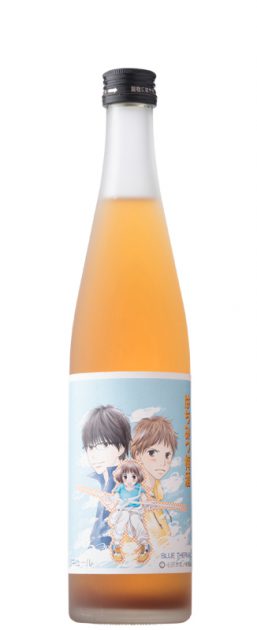 This Sake was made in the Sake brewer in Kumagaya-city where there is a major glider port for student gliders called Tsumenuma Glider Port. The Nanko plums cultivated locally are submerged in honey & Sake and matured slowly into a dainty drink of rich and soft flavor.
*This Sake was developed in cooperation with the local apiary called Bushu-Yohoen.

Art Work by Kana Ozawa
*Blue Thermal is the name of Aonanagi College Athletic Aviation Team that appears in the monthly comic magazine C-Punch by Shinchosha Co., Ltd.
This Sake was made using domestically produced rice.
The plums are from Chugendaira, Yorii-Machi located in the Saitama Prefecture.
You may enjoy it straight or with ice, cold water, soda, or even orange juice.There are may be some pulp found in this Sake. Please mix well and enjoy the texture and flavor. Please store it in a dark and cool place and consume swiftly once opened.
| Capacity | Price |
| --- | --- |
| 500ml | 1250 Japanese Yen(Tax not included) |
| 300ml | 750 Japanese Yen(Tax not included) |
| | |
| --- | --- |
| List of ingredients | Sake, honey and plums (Type: Nanko-ume plum) |
| Yeast used | |
| Alcohol content | 11% |
| Japanese Sake Alcohol Content | |
| Acidity | |
| Amino Acidity | |
| Amount included | 500ml/300ml/ |
*Anything from product label, design, containers, and ingredients of Sake are subject to change without notice
Level of Dryness and Sweetness
Very Dry
Dry
Medium-Dry
Medium-Sweet
Sweet
Recommended ways to prepare
served icy cold
served cold
served at room temperature
heated to tepid temperature
heated fairly warm
heated hot
Popular products by Gonda Shuzo Sake Brewery