Gonda Shuzo Product list
Naozane Tokubetsu-Honjozoshu Kame-Chozo Sake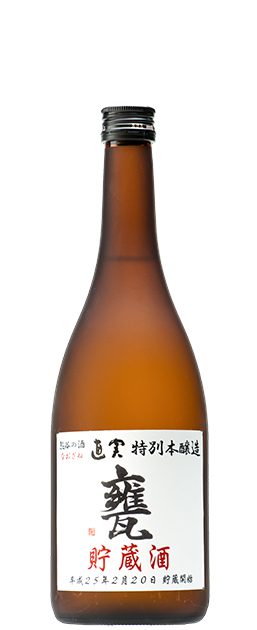 Naozane Tokubetsu-Honjozoshu Kame-Chozo Sake *Tokubetsu-honjozoshu is special Sake that uses rice that is milled to a ratio that does not exceed 70 % of the original weight as the main material and also uses distilled alcohol as an auxiliary material, which does not exceed 10 % of rice ingredient. *Kame-chozo Sake is stored in a Japanese ceramic pot for the duration of its aging.
The aging process of this Sake began on February 20, 2013. The pure Tokubetsu-honjozoshu Sake is stored in a pot that holds approximately 18L called Ittotsubo for over 3 years to age.
The aging process gives the Sake a well-rounded and rich taste, which also leaves a refreshing after taste.Please enjoy the different shades of this glossy aged Sake.
*Tokubetsu-honjozoshu is a specially Sake brewed with rice milled 70 % of original weight and distilled alcohol as auxiliary material not exceeding 10 % of rice by weight.
| Capacity | Price |
| --- | --- |
| 1800ml | 4000 Japanese Yen(Tax not included) |
| 720ml | 1800 Japanese Yen(Tax not included) |
| | |
| --- | --- |
| List of ingredients | The rice used is domestically produced. Malted rice referred to as Kome-koji, and brewed alcohol are also used. |
| Yeast used | Sake Musashi is a type of Sake brewing-rice produced in Kumagaya area. |
| Alcohol content | 18% |
| Japanese Sake Alcohol Content | ±0 |
| Acidity | 1.3 |
| Amino Acidity | 1.3 |
| Amount included | 1800ml/720ml/ |
*Anything from product label, design, containers, and ingredients of Sake are subject to change without notice
Level of Dryness and Sweetness
Very Dry
Dry
Medium-Dry
Medium-Sweet
Sweet
Recommended ways to prepare
served icy cold
served cold
served at room temperature
heated to tepid temperature
heated fairly warm
heated hot